The Southampton Regional Pool League
SRPL.org.uk
Current Season: Summer 2017 - Running April 11th 2017 to 20th July 2017
Next Season: Winter 2017/18 - Running August 29th 2017 to 22nd March 2018
Welcome to the Southampton Regional Pool League website. Here you will find everything you need know about the league including Fixtures, League Tables, Rules, Team Details and more.
For the very latest news and information check out the latest posts on the Facebook group and join our mailing list to the right.
Summer 2017 Seasons Starts 11th April!
Posted: April 4th 2017, 11.00am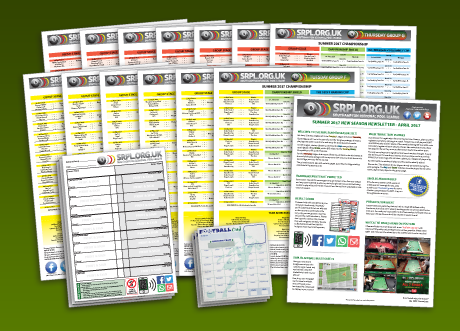 Just 1 week until the Summer Season begins.
All packs are with venues now and the fixtures are live here.
Winter 2016/17 Finals - Now on YouTube
Posted: March 28th 2017, 11.00pm
Watch all the finals, as they happened only on YouTube.
Summer 2017 Season Groups Draw
Posted: March 21st 2017, 12.30pm
Watch the Groups Draw LIVE on YouTube this Thursday!
Summer Season 2017 Registration Closed
Posted: March 19th 2017, 6.00pm
Registration is now closed for the SRPL Summer 2017 Season. Tune in to our YouTube Channel this coming Thursday from 7.30pm for the live groups draw!
Registrations received:
Colour code:
FORM AND PAYMENT RECEIVED


FORM RECEIVED BUT NO PAYMENT (registration NOT complete)




PAYMENT RECEIVED BUT NO FORM (registration NOT complete)
TUESDAY TEAMS

THURSDAY TEAMS

1) Bitterne Park Hotel - Martin Randall

2) Windsor Castle - Andy Egan

3) Obelisk - Mike Smith

4) The Lion - William Steel

5) Spike Islander - Lee Evans

6) Chapel Arms A - Phil West

7) Chapel Arms B - Mark Andrews

8) Peartree -Phil Coleman

9) Brass Monkey - Martyn Geddes

10) Drummond - Kris Gardner

11) Hop Inn - Simon Caws

12) Bittern - Gary Kill

13) Woolston Social Club - Steve Pack

14) Kings Arms A - Rob Halliday

15) Kings Arms B - Darcy Henry

16) Prince of Wales - Jimmy Sullivan

17) Shirley Hotel - Mark Brewer

18) Elephant & Castle B - Ben Prior

19) BPSC - Robert George

20) Ice House B - Jason Plant

21) Robin Hood A - Paul Alders

22) Station A - Richard Wilkins

23) Yacht - Richard Searles

24) Hinkler A - Martin Smith

25) Hinkler B - Dan Lovell

26) Gardeners Arms - Lee Bell

27) Robin Hood B - Mark Westwood

28) Firehouse A - Greg Chmiel

29) Firehouse B - John Reeves

30) Firehouse C - Jimmy Ely [withdrew]

31) Saints - Stuart Forrest

32) Angel - Laurence Mason

- REGISTRATION CLOSED! -

1) Windsor Castle - Tyrone Bulford

2) Robin Hood A- Garry Gawn

3) Obelisk A - Steve Parker

4) Chapel Arms A - Andy Watts

5) Chapel Arms G - Kirsty Prior

6) Fleming Arms B - Roger Hedges

7) Peartree - Dean Cousins

8) Obelisk B - Ian Morris

9) Cue Ts - Craig Davison

10) Master Builder - Dave Collier

11) Brass Monkey A - Gary Biddlecombe

12) Hop Inn - Jimmy Sullivan

13) Bittern - Gary Kill

14) Browns Bar - Danny Campbell

15) NBSC B - Phillip Shepherd

16) Romsey British Legion - Dean Young

17) Chandlers Ford Club A - Ray Smith

18) Drummond Arms - Kris Gardner

19) Kings Arms A - Derek Hudson

20) Kings Arms B - Sam Benham

21) Prince of Wales - Sharon Thomas

22) Station - Simon Bance

23) NBSC A - Paul Elkins

24) The Stile Inn - Hugh Wilson

25) Ice House B - Melvin Herridge

26) Roebuck - Ian Tarrant

27) Robin Hood B - Richard Isaacs

28) Rocket Ronnies A - Darren Weston

29) Woolston T&L - Dave Brown

30) Yacht - Stuart Charlton

31) Hinkler A - Steve Wood

32) Hinkler B - Karen Williams

33) Fleming Arms A - Mike Allen

34) Gardeners Arms - Lee Bell

35) Netley Central Club - Dan Adams

36) Shooting Star A - Dave Jowett

37) Shooting Star B - Jack Andrews

38) Rocket Ronnies B - Dean Guyatt

39) Swan - Dan Bailey

40) Saints - Kevin Ridout

41) Brass Monkey B - Jon Miles

42) Bedford Arms - Simon McDougall

- REGISTRATION CLOSED! -
SRPL General Rules - Updated
Posted: March 10th 2017, 2.00pm
The SRPL General Rules have been revised.
Most revisions are due to the removal of Old Rules related items. 
Other changes include clarification of the "New Player" rules which are also stated on the new result cards being sent out with summer season fixtures.
It's the responsibility of all players to be aware of the rules.
Cup Semi Final & Shield Quarters Final fixtures
Posted: January 6th 2017, 12.30pm
The CUP and SHIELD fixtures for 31ST JANUARY + 2ND FEBRUARY are now live!
Neutral Venues Needed!
The SRPL Committee are always looking to hold semi-finals and finals at neutral venues to prevent either team gaining a home advantage.
These matches often pull in a good crowd bringing much needed revenue to a pub and also free publicity via our YouTube channel at streamed matches.
If your venue is interested in hosting an event, please ask your landlord or landlady to get in touch. Minimum requirements are the provision of food and free play on a well maintained table for the match.
Semi-final matches will be held at the home drawn teams venue if we don't receive any requests.